White paper: Unleashing personal health data for care and research – The InteropEHRate approach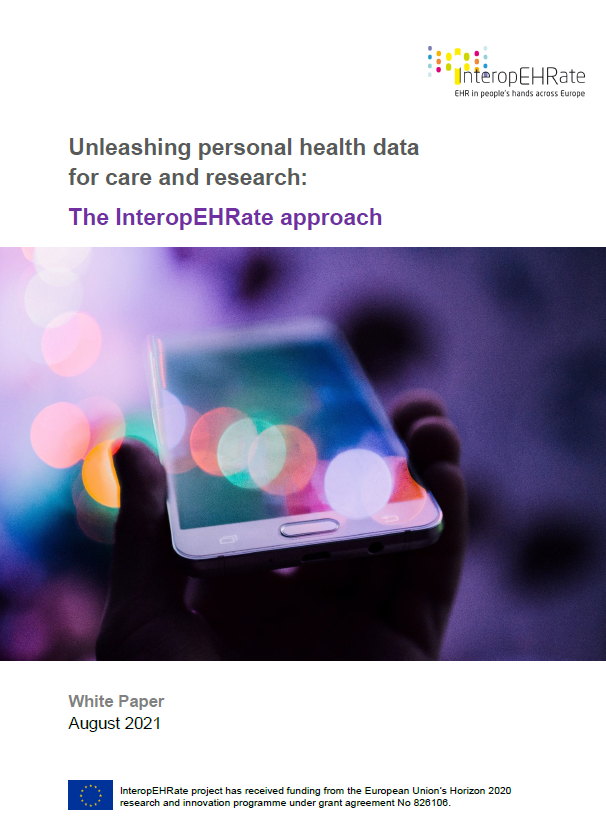 InteropEHRate aims to unleash health data from local silos and offer more power to citizens in managing their own health data across different health providers and countries, facilitating care and accelerating health research as a result.
A citizen-centric approach to data sharing that is complementary to the current healthcare-centred model is already possible today. As a result, it can enhance both healthcare and research. Citizen control and empowerment requires advanced digital health literacy. Citizen-mediated health data exchange requires innovative solutions to increase access and control of health data and overcome existing technical barriers.
This is InteropEHRate's main purpose.
In this new InteropEHRate White Paper, you will learn why citizens need to be empowered to use their health data and how InteropEHRate enables a citizen-centric approach. You will also discover what technical solutions is InteropEHRate developing and what is left for the market to develop.
The main outcomes of InteropEHRate – open specifications, services and applications – are described alongside the specific approaches to security, privacy, user experience and standardisation.
To learn more about the use cases where InteropEHRate brings value to health services and health research through the citizen-centric approach, check InteropEHRate in a nutshell.
For more information, please contact us via info@interopehrate.eu